Vaultra Storage - Orangeville
10 Stewart Court Orangeville ON
Photos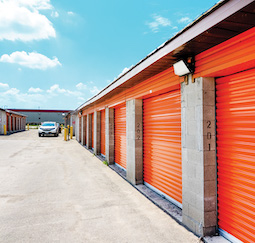 Hours
Office Hours

| | |
| --- | --- |
| Mon-Fri | 9:00am to 5:00pm |
| Sat | 9:00am to 1:00pm |
Access Hours

| | |
| --- | --- |
| Daily | 24 hours/day |
About Vaultra Storage - Orangeville
servicing Orangeville, Mono, Caledon, Shelburne, Arthur, Cardwell, Marsville, Fergus, Schomberg and Brampton.
Vaultra Self-Storage Orangeville is 100% Canadian and is conveniently located off Centennial Road and Stewart Court in the heart of Orangeville,servicing Orangeville, Mono, Caledon, Shelburne, Arthur, Cardwell, Marsville, Fergus, Schomberg and Brampton.  Vaultra Storage Orangeville is located in a south-central Ontario town just one hour's drive from Toronto. We are excited to share that we are in the process of building fully climate-controlled units which should be ready soon. We also offer drive-up storage, IP cameras with motion sensors for safety, and secure electronic gate entry systems all at a very competitive price. Visit us today and save on storage!
Features
Drive-up Access
Security
24 Hour Access
Packing Supplies
Payment Options
Vehicle Storage
Hours
Office Hours

| | |
| --- | --- |
| Mon-Fri | 9:00am to 5:00pm |
| Sat | 9:00am to 1:00pm |
Access Hours

| | |
| --- | --- |
| Daily | 24 hours/day |
Facility Reviews
---
Excellent service, I needed a unit and was in that day. Nicole and Michelle were so helpful got me set up with a Uhaul, I bought boxes and they brought them to my truck. The girls were amazing and the facility was clean and extra concern taken in these covid times. Thank you so much Vaultra Storage
---
Nichole is Awesome! Always very helpful and never without a smile .
---
I really like the staff. Fast, friendly service.
---
I am giving this company a one star rating for several reasons. 1. This has become an expensive service that I can no longer afford because of a new payment policy. I spoke with a Manager on the phone today who said that "she guesses that they're used to taking money from a customers card and having it come out". 2. They do not have a streamlined payment system. - Limited payment options accepted. - Payment amounts are not customizable in the payment links. This is counter-productive and this will delay payments even more. -Non-flexible payment process -Payment reminder spam before and after the due date -Text/only email format with outdated email signatures Solution: -All outbound emails contain a direct link to where a customer can pay. -Connect to your customers and include a personal note to the payment reminder emails! i.e. If you care to connect then why not? That kind of service will go miles. I can't count the number of times when I had to sift through my email to find the one email they sent me that had a payment link. When businesses streamline their payment systems, payments are easily made. This way there is no need to charge high fees in haste of the due date. It's that simple. 2. Their emails are too short and scripted. How do you ever connect to a customer. Customer relations are not built on scripts. Updated websites with streamlined processes in their business are more user-friendly. When businesses conduct more user-testing it is easier to discover discrepancies. 3. They don't commnicate policy changes in a fool-proof way. If you don't get it then you become the fool. They implemented a policy effective on August 1st 2020 that a $50 will be charged if you are 3-5 days late. No cable, phone or cellular company has a harsh payment policy like that. The day I discovered the charge was the morning of the charge on by credit card. When I called in the morning another non-manager lady answered. Before I even told her why I needed to speak to the manager, she knew exactly what I was upset about. Four hours had already passed. Finally a manager calls me back. How did it go? Meh. The manager higher up was across the hall so she passed her the phone. Although the call was slower paced, I did not get the impression that she cared either. I asked her "What does this company do to retain the business of their customers?" My question was deflected and ignored. 4. They do not have a sophisticated notification system so you might miss important information. I spoke to a manager who informed that they notify customers via regular mail. She said they used regular mail to inform customers of the new policy. I did not get the letter and I live in a house. I replied that if the letter were that important then it should have been sent via registered mail. She said it was mailed in July 2020. Orangeville was not even in phase 3. Wasn't correspondance delayed during that time because of the pandemic? Is it possible that my letter caught the Coronavirus and there wasn't a ventilator to save it? I guess so. Unfortunately it didn't matter that I didn't get the letter. All that mattered is that they got their $50 bucks. 5. The management staff is not trained in customer service to the degree that a manager should have. I worked for 10 years in customer service and I know to deal with dissatisfied customers like a Pro. I was told by both Managers that the Owner of the store instructed them not to credit any accounts for the $50 charge. It felt like I was Dorothy in that movie who asked to speak with The Great OZ. I was told that the Owner could not be contacted and that they would "relay the message". Isn't that the same thing that they told Dorothy before they sent her away tired and thirsty. That's kind of like how I feel now being hacked out of $50 bucks on short notice. Shouldn't every phone call interaction with a company leave you with a Smile? Shouldn't companies make their customers feel like they matter? 1.5 years a customer @ 200/month = LOST
---
I've been using this place for about 3 months now and so far I have no complaints. It's very secure, you have 24hr access to your things and it is staffed by a friendly and helpful people. It can get a but crowed inside the facility with the other cars, but people pretty much keep to themselves. They have a variety of sized units for a reasonable price. They also offer uhaul trucks and vans.